After spending quite some time in London, I realised people there take their pies often too seriously.This one for example-though not as popular as in the United States was still a best seller in the Bakery.Made specially for Thanksgiving and Halloween-with generous amounts of pumpkin,and  hints of nutmeg,cinnamon and cloves it would make any pie-lover crave for more..
Sitting by the fire,during the cold winter months-with a portion of this rich and gorgeous pumpkin pie , a generous dollop of whipped cream on top…Yummm!Feels like a scene from some Amercian classic novel.
Lets finish it off with what John Greenleaf Whittier wrote in his 1850 poem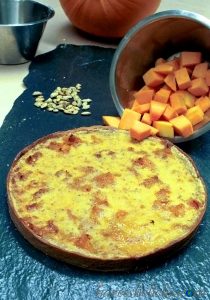 Ah! on Thanksday, when from East and from West,
From North and from South comes the pilgrim and guest;
When the gray-haired New Englander sees round his board
The old broken links of affection restored;
When the care-wearied man seeks his mother once more,
And the worn matron smiles where the girl smiled before;
What moistens the lip and what brightens the eye,
What calls back the past, like the rich Pumpkin pie?