You know I am an Island kinda guy if you follow my previous posts. So when I say Krabi you say Sea, sand and the sun, right? Well, most of you do and so do I.
Anyways this post calls for a backstory. I feel it is a bit important to mention just in case you are planning a trip to this part of the world. So here u go
The backstory
I planned up the itinerary for our family holiday to Krabi to escape from the sweltering desert heat, I was looking forward to shades of green and blue and total relaxation. So, with the same enthusiasm and zeal, I took upon the arduous task of selecting the resort. All said and done, the final selection was made, reviews read, payment sorted, and tickets booked. About 10mins later as we decided to look upon the resort in a map, (I remember doing it much earlier, but this time it was the Mrs. looking) I felt all the happiness drain out of her face.
The resort was not in the mainland after all. It was in Koh Lanta which is an island (in fact it's three islands, but more on that later), so getting there would involve a  van ride from the airport to the ferry terminal, a ferry ride, a van ride from the Koh Lanta terminal to the hotel after a 7 hrs.+ flight. To add to my plight, Koh Lanta consists of three major islands which got a little confusing.
The first island is called Koh Klang and it's right by the mainland, separated only by a small river which you'll cross by the road bridge.
The next island is Koh Lanta Noi, meaning Small Lanta, and it's connected to Koh Lanta Yai by a road bridge. Koh Lanta Yai (Big Lanta Island) is where all the major tourist development is located. We could get there by road, ferries or a speedboat.
She now took over the task of arranging transportation and to avoid further complications I was asked to move to the kitchen and sort out dinner. Typical!
Arrival to Koh Lanta:
And so, the day arrived, and as we arrived in Krabi airport we had a minivan waiting for us to take us to the ferry terminal. Soon after we arrived at the Saladan Pier,  Koh Lanta and the resort was yet another drive away.
As soon as we reached the Southern Lanta resort, it was a "turn that frown …upside down"moment for all of us.
The beautiful blue ocean stared at us from a distance, massive coconut trees swayed in the breeze, friendly locals that always had a smile on their faces, kids splashing in the pool, it was perfect. This place claimed to be a family-friendly resort and Yes! It was. See? This is why I booked it in the first place. So much for being pro-active eh? For the next 4 days our Itinerary was :
Wake up
Hit the beach.
Breakfast
Pool time
Lunch (Remember that Instagram feed?)
Snooze
Back to the beach
Dinner (With an abundance of dining options in the beach strip… again remember that Instagram feed?)
Stroll on the beach again and sleep
Repeat
So yeah..there was absolutely no sight-seeing, shopping or timed trips. It was just us, the elements and the beach bar. 0f course!
Here are the pictures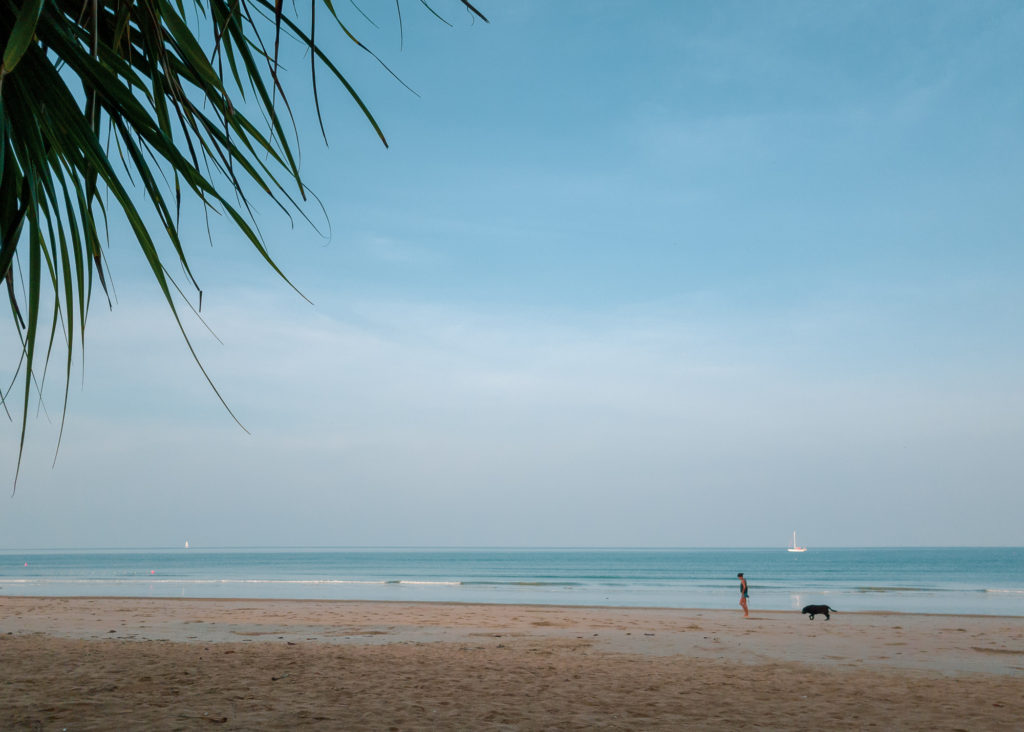 Twilight time 🙂