After asking a few people in Ganga nagar colony for the silk handloom weavers, we were directed to this house hidden within the labyrinth, where it was surrounded by  fabric manufacturers using power loom.
It was like a scene from a 1960's Bollywood movie.
We entered this semi-finished two storey house, where in the dim light of a fluorescent tube light and a bulb was my glorious finish line snuck away in a corner-a handloom. Unfortunately one of the few remaining.
Mohammed was busy working on a bright red and blue Banarasi silk saree.
Mohammed was very hospitable and ever so keen to show us how a handloom worked. He also patiently explained the process and workmanship involved in each step of weaving the saree sitting in the weaving pit.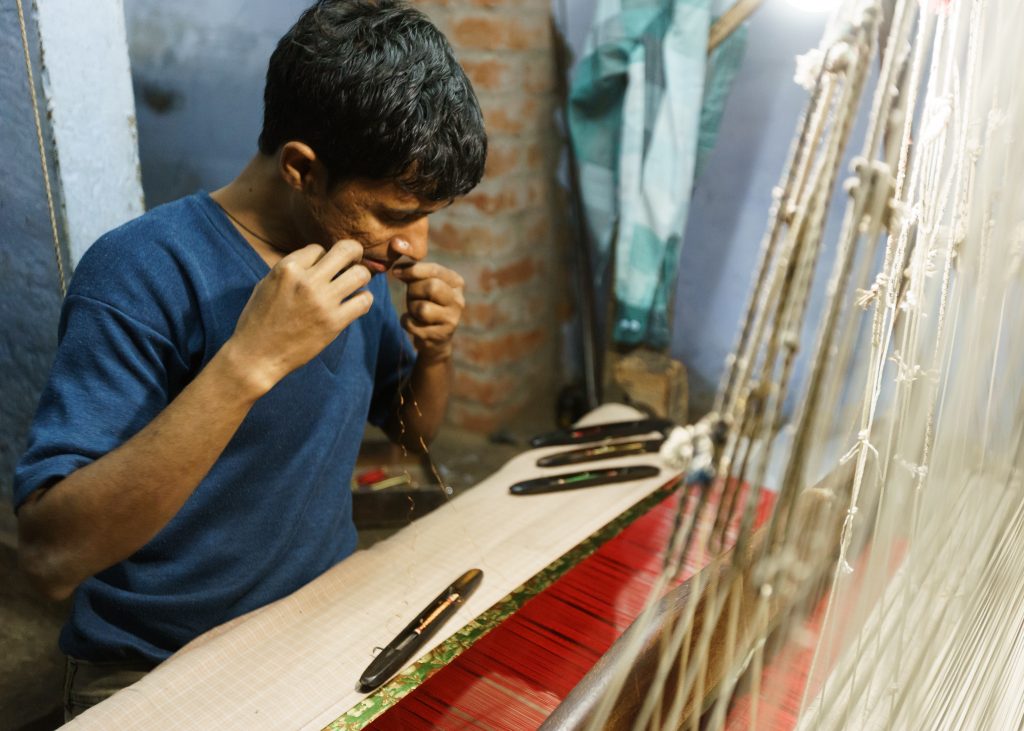 The first step is to create these Punch cards. It comprises of sketching the designs on a graph paper, along with the color concepts,before selecting the final design. According to Mohammed, a single Banarasi saree requires hundreds of perforated cards to achieve the final design.
 I was awestruck already. He gave us a smile and remarked "you haven't seen the real design yet. Take your phones out". Ready?
He works on the design face down and has to decide on the thread color sequences. These designs are a critical part as its customized every time as per the requirement of the customer. No wonder that one saree could take 15 days to a month to complete. The amount of craftsmanship that goes in to it is mind blowing.
Behind Mohammed's artisan handloom pit stood the noisy power loom, which is contributing greatly to the decline of handloom industry.
It is evident looking at the mechanical parts and the size of the loom, the output from these machines must be much faster to match the expectations of impatient customers. Anwar explained that the basic principle of this machine is similar to the handloom but 10 to 20 times faster and effortless.
I am not sure if I should be excited or extremely upset to say that I had a chance to visit and interact with one of the last working handloom artists of Varanasi.
We have to recognize that this process of saree making is an art form. The price should be paid for the craftsmanship as well as his effort, as his entire family's livelihood depends on this – not just for the material used. Until we don't understand these basic points this industry will be  another victim of automation and fast paced industrialization.