Penned by Bharathy Hareesh
I wouldn't say I am an impulsive person, but sometimes we do need to step out of the comfort zone. One such impulsive decision was a trip to Georgia. A desperately needed break from the routine was what got the pace needed to plan the trip. This was strictly a couple's trip. So, with a little help from our guide(Strongly recommended for the maiden visit to Georgia), an itinerary was planned for 3 days. And it was SO worth it, You'll see why.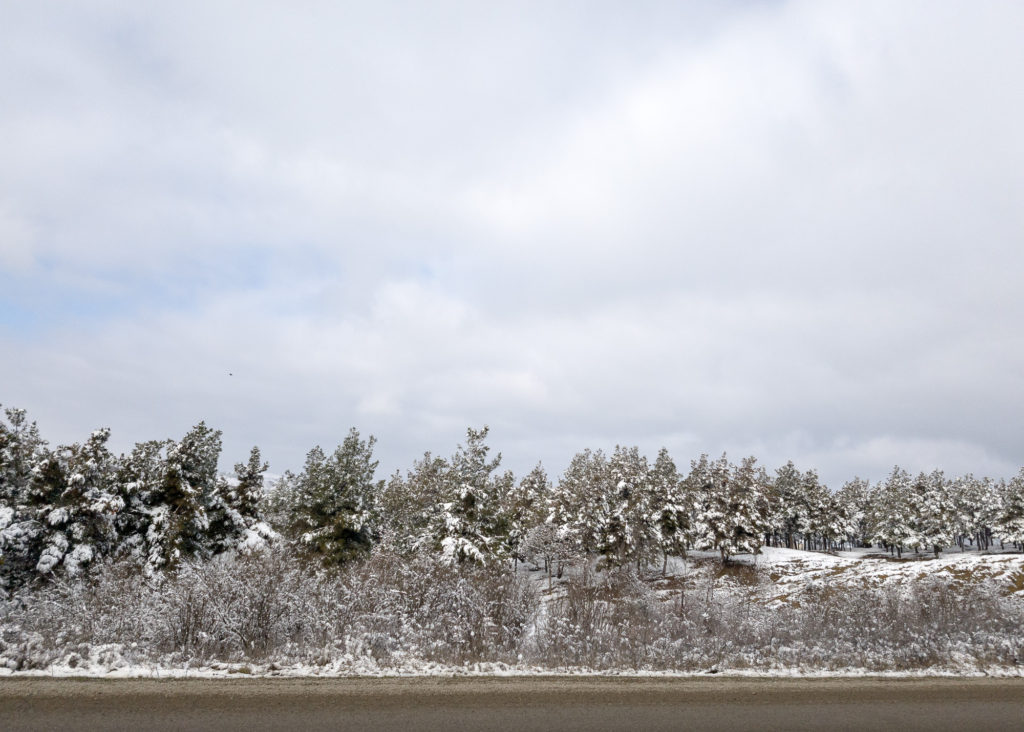 Firstly, Georgia is a country in the Caucasus region of Eurasia. Located at the crossroads of Western Asia and Eastern Europe, it is bounded to the west by the Black Sea, to the north by Russia, to the south by Turkey and Armenia, and to the southeast by Azerbaijan. Georgia offers visa on arrival for everyone with RP's from Qatar. (I secretly wished that would be the norm for all the countries some day, travelling would be so much more enjoyable. I know some of you are already smirking and thinking "yeah rright!". But hey…. wishes don't cost a thing)
So as our flight landed in Tbilisi the Georgian capital (immigration was quite hassle-free), we got excited as freezing temperatures and bitterly cold wind greeted us. I think after living in the Gulf, anyone would feel like a kid when they experience winter with a bonus of snowfall and we knew we were in for a good time. As our guide, Anna helped us check-in into our hotel.
We planned for day 1 to be a trip to Kakheti and Signani city.
Kakheti:
As day 1 dawned, we were up and early and all set to explore Kakheti. Now close your eyes and envision this. Long dwindling roads along snow-covered mountains. Sunshine slowly turns it to snowfall. Fields greet us at every turn., A scene straight out of the movie "Frozen'(don't ask me how I know, I can sing -'Do you wanna build a snowman' from start till the end).
Going back to Kakheti-It's one of the major wine producing regions of Georgia. Unfortunately, being January all we saw was sticks in fields. Miles and miles of it. Our guide introduced us to our first Georgian food experience,as we pulled over along the side of the road.
The car stopped at this cute yellow shed/bakery where an old couple were selling local cheese and bread. Though the English language isn't commonly spoken, we found them very warm and welcoming. So, here's what we tried Shoti a long bread -crisp on the outside but pillowy-soft on the inside. One can eat it all day (Surprisingly – Hareesh was busy devouring instead of taking pictures of Shoti). The next 'MUST-TRY' delicacy  was the Churchkhela=walnuts strung on a thread and encased in grape juice thickened with a bit of flour. Not very visually impressive, but tasted brilliant nevertheless.
Our first real pit stop was the Kvareli lake. Quiet, serene and absolutely scenic. A must visit place for photographers and selfie-fans alike.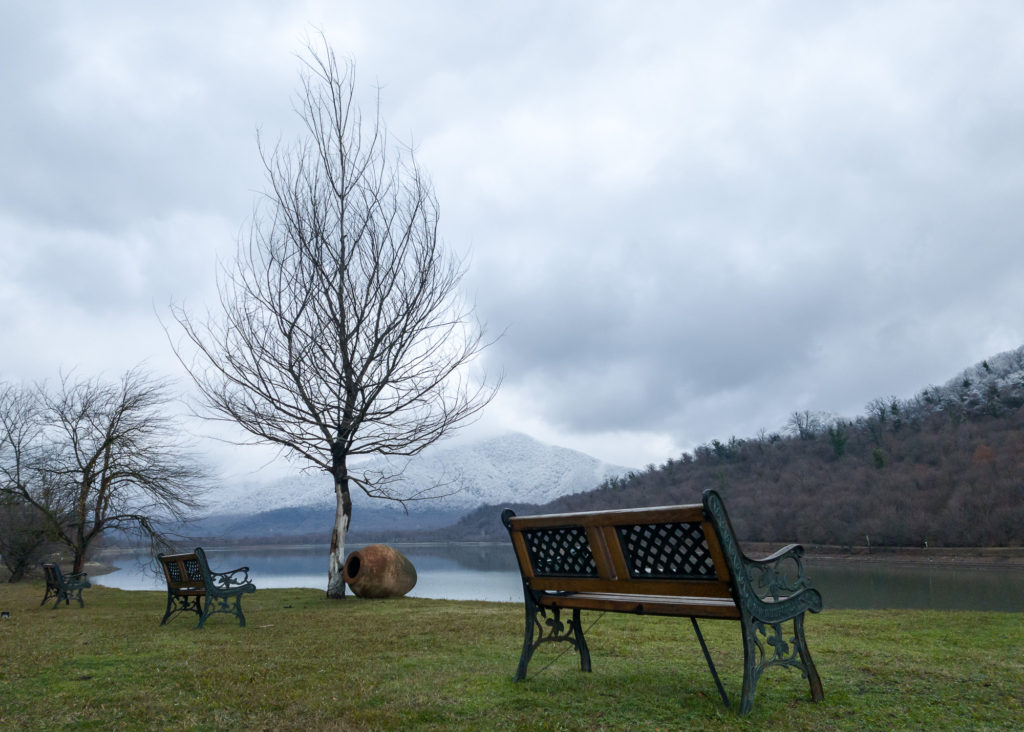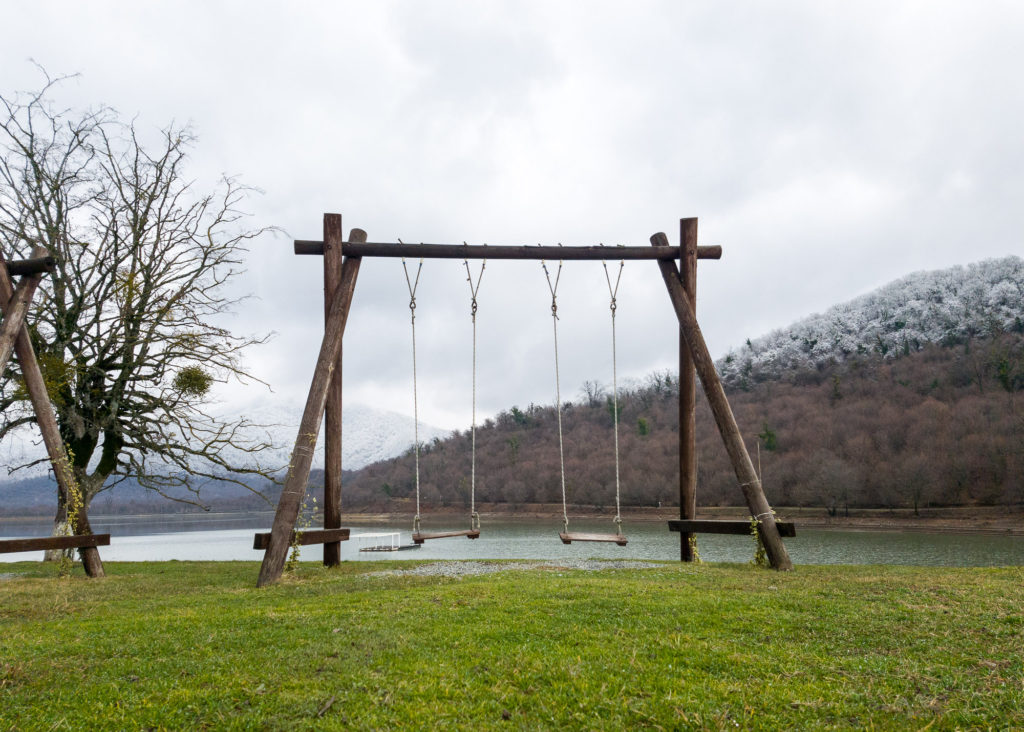 Khareba winery: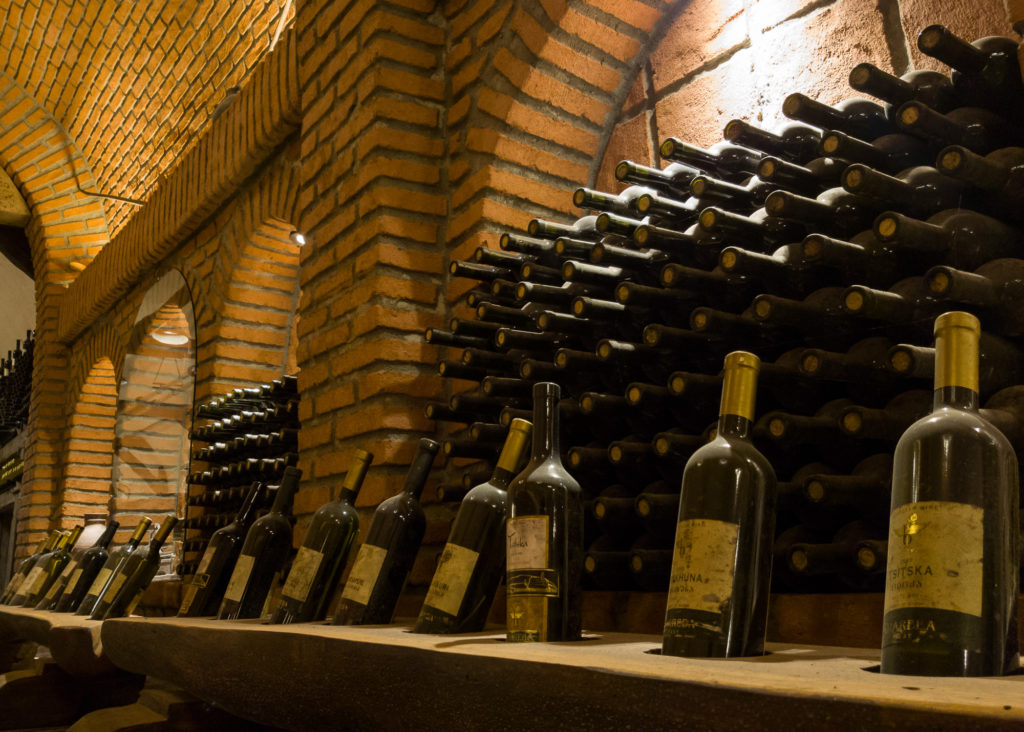 Even mentioning the word "winery" makes me smile 🙂 hic!  This winery was supposedly a bunker constructed during World  wars but never used for the purpose.Thank god !So one day,a brilliant guy decided to convert it in to a winery. ზღაპრული (fantastic)
We opted for a guided tour of the Khareba winery. Guides/Guided tour is so NOT me, but I enjoyed listening to details of how they made wine in massive earthen pots called Qvevri buried in the ground.
We also got to taste some wine and the very famous Cha-cha/vodka.