"Sometimes you will never know the value of a moment until it becomes a memory" -Dr.Seuss.
The back story
How a few words penned together has the power to mean something so deep and profound! In fact Mrs.B and our lill' pre-teen Ms. S have this little habit of reading and discussing quotes every now and then. They read it out loud and its always followed by silence only broken when it has been analyzed and absorbed and then it's time to move on to the next quote. Try it with your family over a nice weekend eve!
While I sit here penning down this blog about Azerbaijan with some 90's hits and a cup of coffee giving me company, the earth is recuperating from Covid19 and what better words than above to sum up how this Hareesh-household feels at the moment.
So, the end of term holidays was soon approaching, and the family was planning a trip to Malaysia. The itinerary was ready 2 months in advance. It included a beach getaway for the parents and Legoland for the little ones. Slowly the news about this virus started to spread. Though the seriousness of the situation was not realized initially, Mrs.B went on an "Absolutely no" mode and wanted to stay put
People were still travelling, there weren't any travel bans yet. So, to keep the kids happy we decided to go somewhere close to home. We had heard of Baku from a few colleagues. COVID hadn't hit this part of the world yet. We said a little prayer and packed our bags.
Getting there
Getting the E-visa is pretty easy. We filled the details and got it in less than 24 hrs. Experiencing snow was something the kids had wanted to do ever since Peppa Pig showed them how much fun it was. So, we headed straight for the tranquil slopes of the Caucasus mountains from the airport. The cab ride was almost 3 hrs. That moment when the kids got out of the cab and jumped on to the snow was cute until little K was in tears that the snow got his jacket and clothes wet. LOL! Peppa pig never mentioned that now did she?
The Resort
Our stay was booked at Tufandag Mountain Resort in the Qebele/Gabala region. The staff here were super friendly and ever-smiling. After checking in, we decided to warm up (it was -12c around noon time) and headed for the restaurant. After devouring hot chocolate, and scrumptious local cheese paired with goblets of wine from the region, it was snooze time.
So, after a brisk breakfast the next morning we decided to hit the Ski school which is also located inside the resort. It had looked so easy from a distance that we had to give it a go. It was going to be etched in our memories forever.
Skiing – No Kidding
I decided to take ski lessons with the kids, while Mrs.B wanted to capture it with her phone standing outside the safety net. We all know what that meant. She was standing there laughing till her eyes swelled up with tears. There was going to be one instructor for the 3 of us. The kids took to it like ducks to water. I wish I could say the same, but I don't think skiing is for me.
The SRK fan
A special shout out by the way to the GRE of the hotel. When she realized Mrs.B was from Mumbai, she couldn't stop talking about Shah Rukh Khan and how she would love for him to visit Gabala. So SRK if you are reading this, your fans await.
We collected our ski lift passes and headed for the higher slopes for we had to treat our eyes to some breath-taking views of the snowy peaks. An all-day pass meant we had unlimited access to the ski lifts. I always stutter and stammer and can never seem to find words to describe nature's beauty. While Mrs.B seemed to recollect scenes from Mani Ratnam's Roja, Ms. S saw the winter wonderland from the Harry Potter movies. I stuck to what I knew best-capture it.
It's all about the tea
Tea in Azerbaijan is sacred. The locals love their chai and have traditional tea-houses or 'chai-khanas' that serve fresh tea all day. It is believed that the classic pear shape of the Armudu -the glass in which tea is served represents the ideal figure of a young Azerbaijani woman. (Feminists-kindly excuse!) It was refreshing with the tang of lemon and extra sugary. Something we also learned while we were there was that tea is also served during match-making.
After the negotiations by matchmakers are complete, the tea is brought out. If the tea is served without sugar, it's a sign that the chances for a wedding are very low, while if it's sugary, everything's good and there will be a wedding! The snowy slopes hadn't stopped the locals from constructing their chai khana high up in the mountains either. A quaint wooden cabin that offered refuge from the snowfall, with hot cups of lemony sweet brew, cannot go wrong!
Baku A.K.A…The city of winds
After experience everything Gabala had to offer, we headed back to the capital city of Baku A.K.A…The city of winds. This seems to have been derived from its Persian name Badkube which translates to "Pounding winds". Though there are plenty of travel agents offering a day trip of the city and around, we opted to see it on our own, in our own time. And that meant we had to skip quite a few places.
Our stay in Baku was booked at the Park Inn by Radisson. We didn't realize at the time of booking that it was a business hotel and doesn't cater to kids' needs. It meant a very basic breakfast, no pools or kids play areas, and rooms with very basic amenities. Oh well! They did have family rooms which are a tad bigger than the other rooms. The plus point, however, is its location and excellent wifi. The places we wanted to explore were within walking distance. So, grab your jackets and start walking.
The city turned out to be the perfect amalgamation of the old and the new. The old city/Icheri sheher from as early as the 12th century B.C opening its arms and embracing the modern downtown buildings was beautiful. One can surely feel like a time traveller as we walked down the lanes and many by lanes of the Icheri sheher. The palace of the Shirvanshahs, built in the 15th century is within this complex. The Maiden tower shrouded by many questions stands forlorn. This piece of land is now a UNESCO world heritage site and comes first into my 'Must visit places in Baku' list.
The magic carpet
Another place that we decided to walk to was the National Carpet Museum. You cannot miss it, literally, you can't-it looks like a rolled carpet from a distance. 🙂 Yet again, another young local approached Mrs.B to express his love for India and Goa, how he wanted to explore the beaches, and loved the food. Hey, why doesn't anyone walk up and talk to me? Azerbaijan carpets are well-known all over the world for their quality and high artistic value.
The carpet museum was a very different experience. It houses 3 floors of carpets from the 11th century through the ages. There are 2 looms where local women show visitors how the carpet is woven. They make excellent souvenirs but kindly refer to the current rules about exporting carpets. We read quite a few blogs about buying carpets but could never conclude. One very important thing to note while buying carpets is that any carpet older than 30 yrs. cannot leave the country. There are also rules on certain carpets requiring a certificate in which one will be required to present at customs while leaving the country.
Glorious food
This chef's blog isn't complete without mentioning the food. Azerbaijani food has a major influence of Middle Eastern cuisine. Their kebabs, dolma (stuffed vine leaves), lip-smacking Pakhlava (a sweeter version of Baklava) reminded us of home. We even got to savour some of our Georgian favourites from our trip some time ago like the grilled eggplant roll stuffed with walnuts.
Their Plov was delicious with the rice grains perfectly cooked and garnished with apricots, raisins and dates. Azerbaijan is a predominantly Muslim country, serves only Halal meat in most of the restaurants, although there was plenty of vegetarian options too. For the wine connoisseurs, I suggest you try the pomegranate wine. For the teetotallers, there is a varied option of flavoured lemonades. I highly recommend the pear lemonade.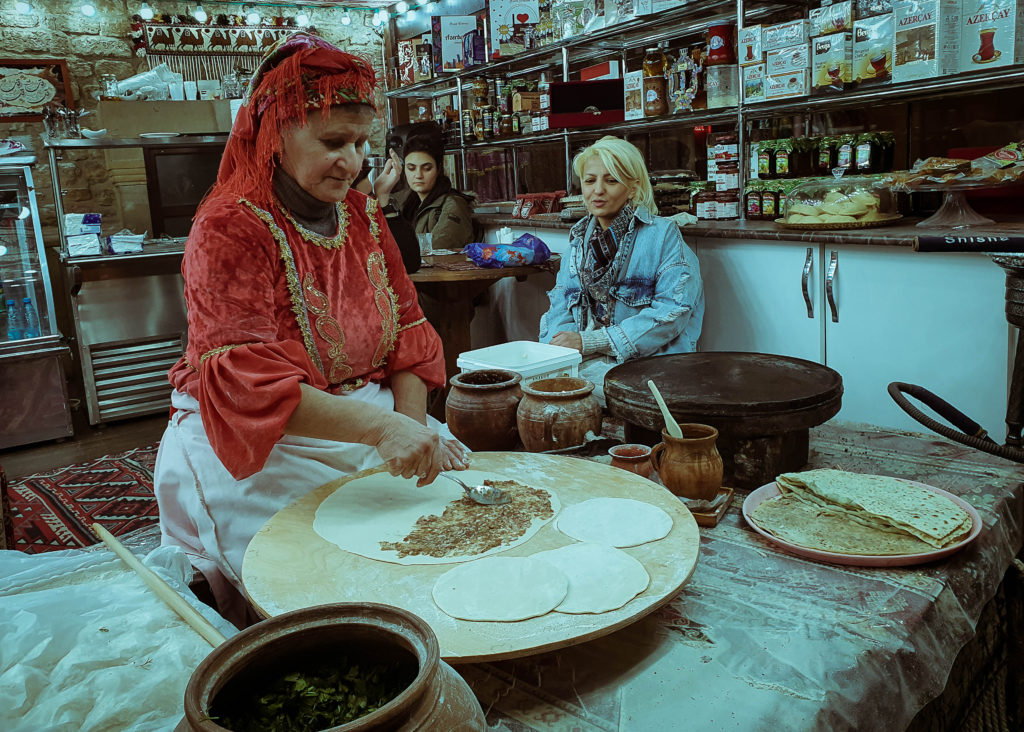 Once the sun has set, do not forget to visit or at least stand and marvel at the Flame towers. The towers are completely covered with the LED screens that display the Azeri flag and giant flames and are visible from the farthest points of the city. A perfect end to our holiday in the Land of Fire.
The VLOG
I am glad you read this far, which proves to me that there still people in this world who has the patience to read and enjoy. That being said I am trying to keep up with the worldly demands and also at the same time having fun with the absolutely time-consuming process of creating videos. check it out and do drop in your thoughts.
Thoughts penned by Bharathy Hareesh AKA Mrs. B
Here is the gallery