When I say Cambodia you say Angkor Wat…and you imagine this 🙂 Don't you?
Ok, Now that the most wanted /over photographed /cliche ( But I don't think so ) shot has been captured I can now concentrate on some other aspects. 😉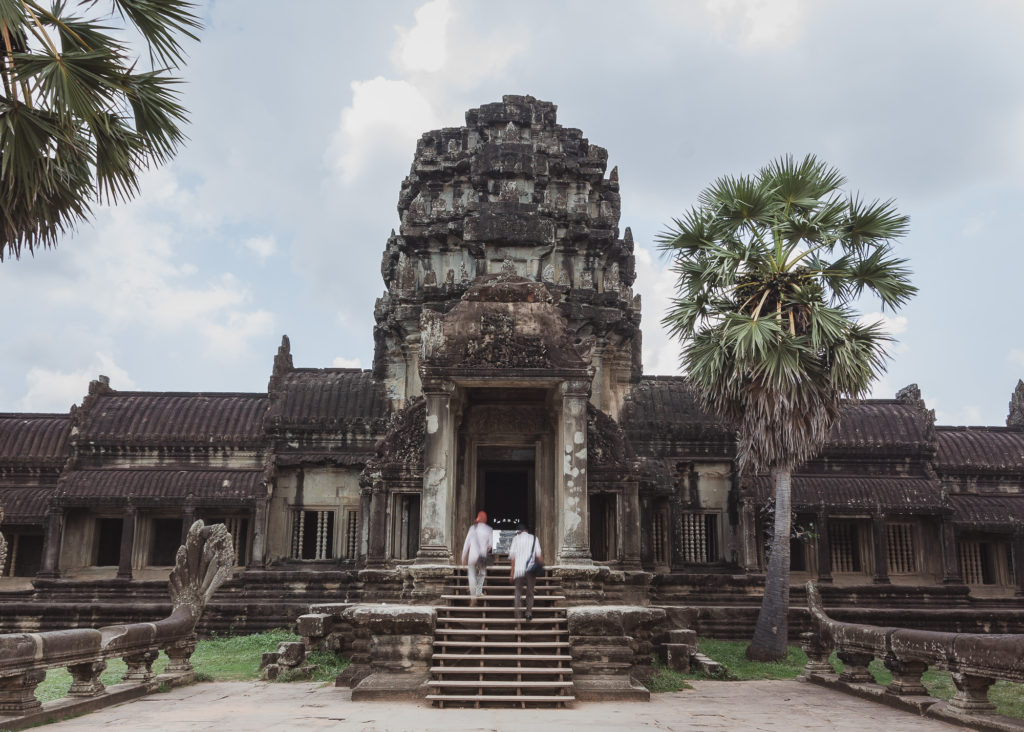 So as day 2 dawned upon us, we were finally getting ready to make our dream(well, one of) come true. The Angkor Wat temple complex is the largest of its kind in the world.
The Legend
As every ancient landmark, comes with its own set of legends and stories, this place is no different. According to legends, the construction of Angkor Wat was ordered by  Lord Indra to serve as a palace for his son Precha Ket Mealea. Some believed that the temple was constructed in a single night by a divine architect. Now that's WOW!!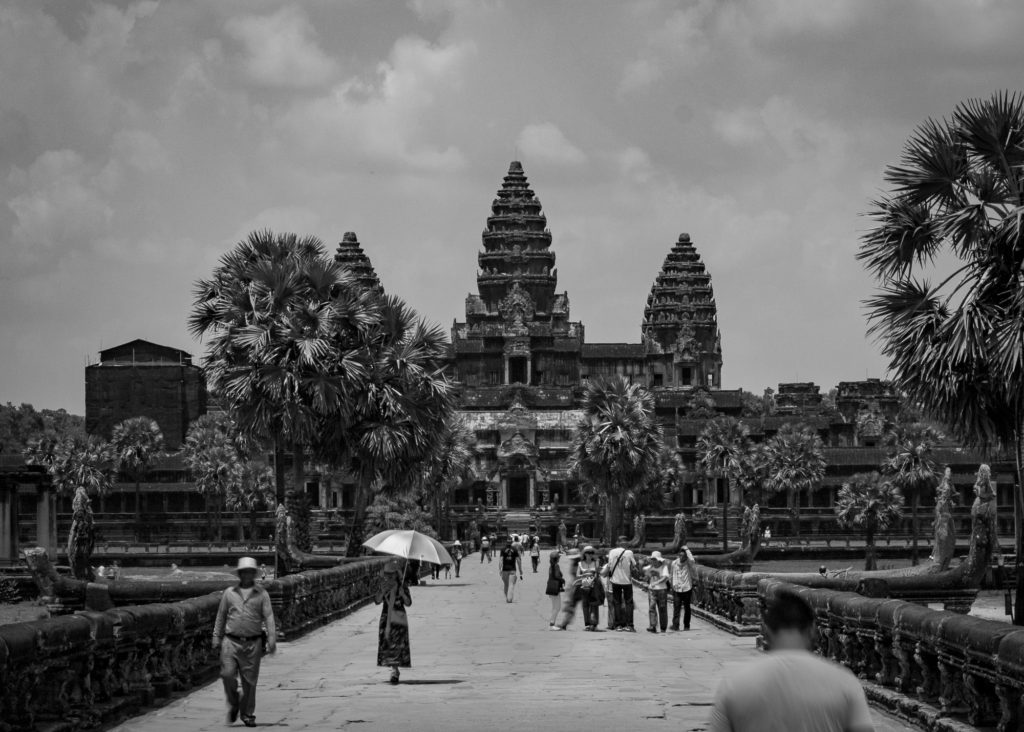 In reality, however, it was originally constructed as a Hindu temple by King Suryavarman 2 of the Khmer Empire, roughly between A.D. 1113 and 1150, and encompassing an area of about 500 acres. He dedicated it to the God Vishnu, but it gradually transformed into a Buddhist temple.
The temple is a representation of Mount Meru, the home of the gods: the 5 central towers symbolise the five peaks of the mountain, and the walls and moat symbolise the surrounding mountain ranges and ocean. From a distance it looks like a massive lotus blooming up, overlooking the sky. Absolutely magnificent.
As you walk around the temples, one can only gawk at the architecture and workmanship in awe. The walls are tirelessly engraved with depictions that change every few steps and one is kept so busy, that the brain and body refuse to tire. A balustrade resembling the body of a serpent border each side of the walkway.
This was a sight that was not only common to the Angkor Wat temples but kept repeating itself in Angkor Thom and a lot of other temples we visited. The balustrade terminates with the body of the serpent gracefully spreading its nine heads to form the shape of a fan.
Sculptures and relics
Two buildings, called the libraries stood in the courtyard on the left and right, just past the middle of the causeway. Over 1,500 Apsaras (celestial dancers) line the walls of the gallery offering endless visual and spiritual enchantment.
These graceful and beautiful females delight all visitors. They are said to be created by the churning of the 'Ocean of Milk'.
As the day finally came to an end and we could walk no more (we were literally crawling back to the tuk-tuk on our knees.LOL)it was time to finally bid farewell to this Wonder of the World. Leaving  Angkor wat left me physically exhausted but mentally craving for more.
Day 3 was bringing to us the Angkor Thom, Bayon and a few more temples.